Technical Potential Tool
The Technical Potential Tool on the RE Data Explorer platform offers users the flexibility to explore their own technical potential scenarios most likely to impact the development of solar- and wind-based generation in their countries.
The tool allows users to estimate technical potential based on user-defined inputs for wind, solar photovoltaics, and concentrated solar technologies. Users can select limits such as resource quality, power density, or proximity to roads and transmission. Exclusions can also be applied, which may include protected areas, land cover/land use, slope, or other culturally significant areas.
How To Use Tool
Select your country
Select the "Use Tool" option or the "Take the Tutorial" option (for more information) from the pop-up window.
Select the "Analysis and Downloads" tab in the top navigation bar.
Select the "Technical Potential Tool."
Select your "Country" and "Regions" in the "Run Analysis" tab.
Select the "Resource" and "Technology Type" for your analysis.
Select the applicable limits and exclusions for your technical potential scenario.
Enter a layer name in the "Save Layer As" box at the bottom of the tab.
Click "Run Analysis." (it may take a few minutes to run).
Review the results in the Results tab when the analysis is complete.
Close the Technical Potential tool window.
Select the "Select and Query Data" tab in the top navigation bar to download and visually explore the data layer created for your technical potential analysis.
Also, see the Technical Potential Tool Tutorial
Select your country.
Select the "Use Tool" option from the pop-up window.
Select the "Tutorials" button in the top navigation bar.
Select the "Launch Tutorial" button for Technical Potential at the bottom of the list.
What is Technical Potential?
Technical potential is the achievable capacity (MW), generation (GWh), and suitable land area (km2) of a particular generation technology given system performance and topographic, environmental, and land-use constraints. Technical potential provides an upper-boundary estimate of the renewable energy development potential in a particular area. Further analyses can build on the technical potential to evaluate renewable energy potential in relation to costs and other economic market considerations, as shown in the figure below.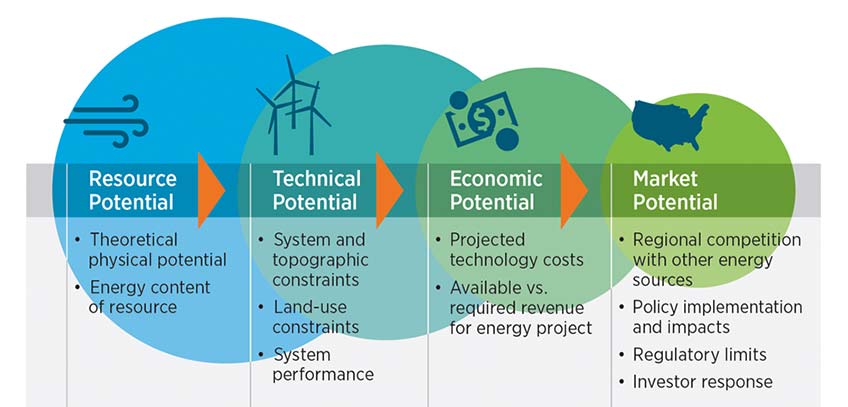 Figure 1. Types of Renewable Energy Generation Potential. Source: Estimating Renewable Energy Economic Potential in the United States: Methodology and Initial Results
Why Is Technical Potential Important?
Technical potential analyses can support key decisions including:
Early-stage target setting— provides upper-bound estimate of renewable energy targets based on resource availability and technical exclusions.
Policymaking— informs high-level renewable portfolio standards, land-use policies for renewable energy co-siting, and early-stage analysis for various policy types to build support and feed into subsequent analyses.
Investment— supports the initial identification of favorable sites for on-the-ground resource measurement and validation (reduced cost) and zones with high-quality, technically feasible resources.
Power sector planning— serves as key input for power sector modeling through capacity expansion and production cost models in addition to supporting early stage transmission planning for proactive transmission planning approaches (such as renewable energy zones). For more information about renewable energy zones, see the Greening the Grid website.
For more information, see Renewable Energy Data, Analysis, and Decisions: A Guide for Practitioners.
Resources
RE Data Explorer Data Sources and Technical Potential Assumptions Spreadsheet Tool
Training Videos
Highlighted Resource
Technical Potential Tool Application Programming Interface (API)
This API allows the Technical Potential on RE Data Explorer to be implemented within another web tool or interface based upon a user's needs and objectives. This allows convenient access to the technical potential parameters, data layers, and exclusions on RE Data Explorer. The Technical Potential analysis tool was developed at NREL in conjunction with the U.S. Agency for International Development. Find out more on how to use the Technical Potential Tool API on
NREL.gov
.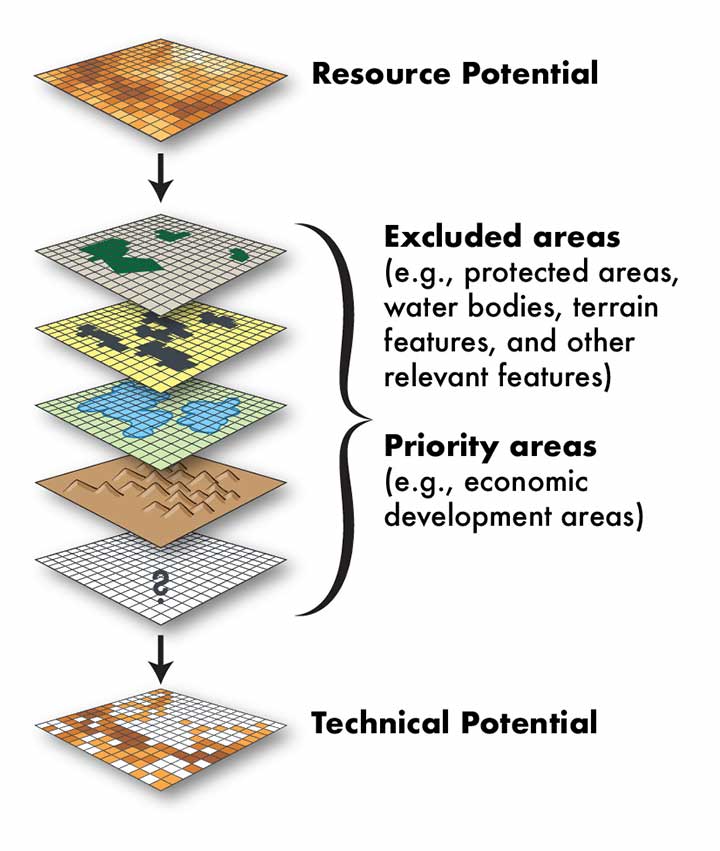 Technical potential defines the sites on which development of a particular renewable energy technology is technically feasible.